Wow, I have
been learning fast
. I have been spending A LOT of time at my sewing machine, and when I'm not there, I love looking up tutorials and learning. I know I put up sewing tips a while ago, but I feel like I've come a long way since then, and I'd really like to share what has helped me along the way. I hope you other sewers out there enjoy these resources, they are incredibly and come from some pretty amazing people!
Click on the photo to link to the source, I find that images look messy with links below them or in the caption!
This tip is absolutely genius. I can't believe I've never tried it before. I once had an absolutely dumb similar idea- to use hair wax for this. Needless to say, I
hadn't really thought it through
and it ended up being a gooey mess. Euw.
This is amazing, I can't believe I've never thought of it before. My problem is that I often start thinking about other things while sewing and my work ends up going skew!
Easy seam allowance
I've been working on tote bags and I like to make the handles myself, so this has really come in handy!
One tip that I know works very well is to always use an iron. There's just something so professional about how things look when they're complete... Unfortunately, I am stone cold broke currently, so I am waiting for my next bit of income before I can finally invest in one!
No, not that kind of iron.
When you mess up,
just unpick it
. I hate this one. And I hate it when I mess up a project. But quite honestly, rather spend a minute or two unpicking a project than mess it up even further. I find that when I just keep going, the project often gets ditched and becomes a
huge waste of time and money
...
As they say...
This is something I learnt veeeery quickly... There's nothing more
frustrating
than having your sewing machine go, "HA! Look at you, idiot! You ran out of thread!" Always make sure that your bobbin has enough thread for what you are about to tackle. In order to save thread, I have a lot of bobbins and I don't throw away
bits left on a bobbin
, I simply save them for when I will have a smaller part to sew.
This is something I
learnt rather quickly
, too. I never used to change my needles because I'd always be sewing silly projects while my mom was doing proper ones, and I had no idea that you had to change your needle! Thankfully, I am older, more
wrinkly and wiser
and I now change my needles before they mess everything up.
Yes, EVERYTHING.
Just... make yourself a pin cushion. You really won't regret this one, and your life partner will thank you for stopping using the carpet... (although carpets do make incredible pin cushions)
....Ooooh! I feel another list coming along- gorgeous pin cushion ideas...
I am a huge fan of ruffling, but mine always comes out
ugly
. Because of this, I lost hope and haven't tried ruffles in a while! This idea, however, seems like a great one and I can't wait to try it!
This is something I seriously battle with. If it's not my unpicker I've lost, it's always something else. Here are some really cool ideas on how to keep yourself organised while sewing. This has helped me save hours!
As soon as I have a flat where I can actually do things that will leave
permanent damage
(such as just put up a simple shelf), this is definitely one of my first projects. There's a Consol factory shop nearby so mason jars will be cheap- this is just such a clever idea!
Damn,
something went funny
with this picture and I am struggling to get it right again. But what an incredible idea- you take threads or ribbons or whatever and wrap them around
pegs
, then pegging them so that they don't unravel! Incredible!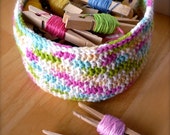 I've never understood
t.o.e s.e.p.a.r.a.t.o.r.s
... I find them ugly and very uncomfortable. So this is a great way of using those terrible things that I have gathered over the years!
This is something I could definately do with!
Oh, and just as an extra note, be sure to check this out. This is a seriously useful resource, and even if you don't use it now you should definitely bookmark it for later!